Okay, long post about what I've been reading. My adolescent lit class had us reading two books that were thematically very similar, so I thought I'd review them together. For my class we have to write about how to promote them in a library setting, which is very challenging for me personally because the topic these books centered around (suicide) is a very painful one.
Tears of a Tiger
is the first book in the Hazelwood High Trilogy. The book opens with a scene that changes the teens of Hazelwood forever as four students are in a car accident caused by drunk driving, an accident that is fatal to one. That isn't a spoiler. That's on the back of the book. The rest of the book details how all of the students respond and grieve and cope (or don't cope) with the tragedy.
The story is told without any narrative but in dialogue (mostly, police reports, homework assignments, etc. It's a fast read because of this. This can be a bit of hindrance though because it glosses over months at a time, it can be difficult to follow how some characters are able to move past Rob's death quickly when the sequence skips ahead so much.
Draper does a good job with the language of the teens expressing their frustrations and actions, even if it at times comes across as dated or forced. However, I think the students' responses to death come across as simplistic and shallow. Rob becomes a cardboard character known for being popular and great at basketball, but he's not missed in the way a friend's death would warrant grief or mourning by anyone except for Andy.
SPOILER: Some students express anger at Andy's death, but even then it is in the context of their personal emotions and how it affects them. Some of the letters about his suicide just seem trite and what I'd expect from a much younger, less cognitively developed crowd (for instance, blaming Andy for not being able to pull it together). I suspect it was written this way because the book is a high interest low level reader, but I don't think it's fair to patronize teenagers reading a hi-lo with elementary character development.
All of the adults in the book are presented by the teens as being out of touch, racist, or selfish. I take a bit of offense to the way Draper does this. Adults reading the book will recognize that the adult characters are reaching out and trying to help the students, and to hear the teen characters whine and speak of resentment makes me a little annoyed. Again, I wish Draper had moved beyond some stereotypes. Were Andy's parents somewhat self-involved and ineffective in their ways of dealing with his behavior? Sure. Should the students be outraged at school counselors who ignore student concerns about mental health? Sure (and very typical situation that I'm glad was included). But when every single adult in the book is the object of ire and eye-rolling from these teens, I'm disappointed. The book is nearly all the teens' perspectives and I wonder if teen readers will easily adopt that view point rather than notice the good intentions that the adults were exhibiting. Basically, I appreciate literature that doesn't isolate teens and have them thinking they are alone with their emotions and drama. I appreciate literature that displays teens forging friendships and positive relationships with adults. But maybe that's just me and the typical teen will relish in the idea of "Adults just don't understand me."
This same issue is present in
13 Reasons Why
where main character Hannah Baker leaves audio cassettes as a chronicle of what led her to choose suicide. This is a bit of a SPOILER, but again, Hannah isn't fair to adults or other people trying to help and cuts them off. Asher's description and justification for Hannah's behavior comes across as very believable and logical (especially to younger readers), but I was angry that Hannah's suicide and tapes were basically a spiteful "F you" to a dozen plus people who couldn't respond and were just left with extreme and (often times) unnecessary guilt. I understand Asher's point that little events (gossip and petty drama) do add up to emotional pain and we have no idea the battles that other's are facing, but Hannah's tone throughout the tapes hit a little too close to reality in its maniacal spite. As a suicide survivor (of a friend whose name was a huge character in the book), the whole thing was just creepy to me.
My biggest issue with
13 Reasons Why
is that it was written in an interesting way. Yes, it was very well-written. The two narratives of survivor and victim (hmm...there are really many victims here) told through tape audio and reflective thoughts was fascinating. Hannah's narration becomes a bit of a mystery. How does this person fit in? What did a school teacher do to contribute? Normally, I'd be all for a book that hooks readers and gets them to finish the book in a few hours, but I feel very uncomfortable with the idea of glorifying suicide or at the very least orchestrating a novel that creates an atmosphere of intrigue and entertaining suspense about someone who is suffering from a serious mental condition.
So while I do think the topic of suicide and teen suicide is an important one, I'm still not very happy with the way it is presented in these books. Perhaps I would like more books that include more perspective from survivors, with realistic actions (like Clay's in
13 Reasons Why
). I would love for more YA to handle this issue with adults stepping in and helping teens get healthier rather than being blamed as part of the problem. Maybe I'd have more respective for a sensitive memoir rather than fiction. Regardless, while these books will appeal to teens and do address an important and timely topic, these were not books that I enjoyed nor ones that I think I have the emotional strength to teach. I don't think they should be eliminated from a secondary school library though.
I wanted to offer these links because I think the work that is being done by these organizations is vital. Suicide prevention is possible!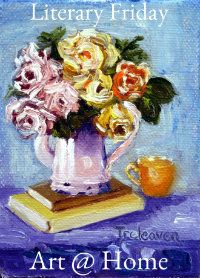 I blog about books, crafts, educational ideas, food, and my life. You can subscribe to my RSS feed or by email.